Gym Lockers, Sports & Leisure Lockers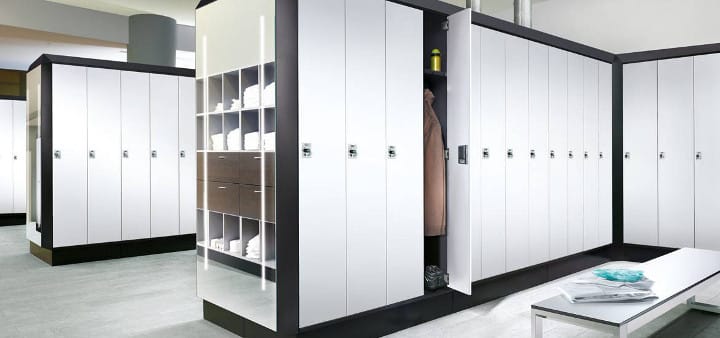 Dry & Wet Area gym & leisure lockers
If you need Gym lockers Designed to meet the specific requirements and priorities of sports and fitness centers, our leisure lockers can be used in both dry and wet areas, including swimming pool & spa changing areas, sports centers, gyms and health & fitness changing rooms. Maxistor have gym lockers for sale, sports lockers and steel gym lockers from the probe lockers range.
All are available with specialist
ACTIVECOAT

anti bacterial coating

ideal in todays surface cleaning and disinfectant regimes that customers expect from the surfaces in a changing room and your locker surfaces;
Metal and steel gym Lockers
Changing room furniture & gym locker equipment suppliers Maxistor are certainly your No. 1 source for Probe lockers across Ireland. Many customers have changing rooms with metal lockers and we likely have the same changing room metal lockers to match your current setup allowing you to increase capacity with ease. If not we definitely will have a similar metal gym locker – leisure lockers – sports lockers and changing room lockers to suit your gym or sports center from our range.
Maxistor are on hand to help clients looking for a lower price point and retaining value to keep within your gym fit out budget, repair to existing changing room locker equipment – . We provide many brands and spare parts in our range with an in house metal fabrication team to alter any set up as required.
Contact our technical sales team sales@maxistor.ie on Dublin : +353 (0)1-4080722 for nationwide service call out across Ireland and Northern Ireland.
You probably will need locker benches as well for your changing room. So many customers have changing rooms, changing room metal lockers. Out customers include we have your changing room metal lockers.
We provide many other items you can use along with your changing room lockers and gym lockers such as locker room benches, locker room lockers, storage cabinets, spare gym locker parts, locker keys, locker replacement locks etc.
---
Gym & Leisure Lockers from Probe Lockers –
Our most popular changing room lockers & gym lockers are manufactured by 'Probe' Lockers Ireland for the highest quality. We provide many sizes and type of materials for changing room lockers from the Probe locker range : A small selection of the most popular locker units are detailed below – for full fit out of a gym, swimming pool, changing room area our technical sales rep. will be happy to arrange a site visit / and or off plan design & quote for these award winning gym and leisure locker systems.
All Probe lockers listed below (from 1 Tier locker through to 6 Tier lockers) come as standard with ACTIVECOAT anti-bacterial powder coating. 99.9% Reduction of e-coli & MRSA Super Bug
ACTIVECOAT has been tested by an Internationally recognized microbiological testing laboratory for antibacterial performance, against the most widely encountered and problematic a Ideal for the protective surfaces required in a post Covid 19 surface disinfectant regime – Our lockers will give your gym, swimming pool or sports club the edge when it comes to a safer customer and staff environment in the changing rooms and lockers, cabinets and other storage equipment available in the Probe locker – lion steel locker range.

1 Tier Probe Lockers
The most popular and widely used locker offers maximum space for full hanging of clothing and other belongings. Each locker has a convenient shelf for storage of bags, shoes, hats or other small articles. Lockers come with a coat rod in addition to coat hooks.
2 Tier Probe Lockers

Accommodates twice as many people as single tier lockers in the same floor space, while still providing enough room for light outer wear and personal belongings.
Multiple Tier Box Probe Lockers 3 Tier | 4 Tier | 5 Tier | 6 Tier
Also known as "box lockers" for their compact dimensions, Probe multiple tier lockers allow numerous users in the smallest amount of floor space. They are available in 3, 4, 5 and 6 tier configurations. These lockers are ideal for storage of athletic gear or employee personal storage. Each compartment can be locked with padlocks, cam locks or built-in locks.
Twin Probe & Two Person Probe Lockers

SPACE SAVING TWO PERSON & TWIN LOCKERS
Where space really is at a premium, our versatile dual lockers are the answer. A single tier locker separated into 2 individual compartments, each offers two users full depth for garments on hooks while keeping the units overall width to a minimum.
Both our Two Person Lockers and Twin Lockers feature a coat hook in a vertical hanging space.
SPORTS, GYM & LEISURE Probe LOCKERS
Designed to meet the specific requirements and priorities of leisure and fitness centers, our leisure lockers can be used in both dry and wet areas, including swimming pool changing areas, sports lockers for sports centers, gym lockers for sale including steel gym lockers and wooden panel gym lockers to suit your gyms changing room with the huge range of Probe locker colors to suit both men's and women's changing rooms and Metro changing rooms also for both sexes, spa and swimming pool lockers with special features for changing in wet areas and health & fitness club locker changing rooms.
Additional Probe locker features & options:
– Additional Door Perforations: Additional door perforations are available for added ventilation and limited visibility.
– Size & Style: Our Lockers are available in a large range of sizes, colors and door configurations to accommodate your changing room requirements. We also supply an extensive range of locker seats, stands and changing area benches.
All these Probe lockers and locker accessories are treated with the ACTIVECOAT specialist anti bacterial coating, keeping it clean and simple yet durable and colorful
– New features: DIGITAL KEYLESS LOCKERS
– Traditional key systems, electronic tags, combination locks, cam locks & padlocks are also available on all locker units in the range.